During the month of February 2022, Saitama made a big jump ahead of a potential Binance listing. The rumors come from a presentation coming up on the Binance live platform.
Saitama (CCC:SAITAMA-USD) fans are surely in high spirits today after the token jumped more than 25%. The reason for the uptick? Rumors are swirling that the SAITAMA crypto will earn a listing on the world's largest crypto exchange by trading volume, Binance.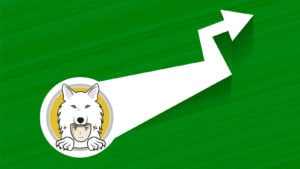 So what's going on with these Binance listing rumors?
As per a tweet from @InuSaitama, Saitama plans to host a live Ask Me Anything (AMA) session with BinanceLive. Yesterday Saitama tweeted out a link to the AMA, which currently features a timer counting down to the event later today.
Anytime a crypto is listed on a new exchange presents an opportunity for a major uptick. This appears to be the reasoning behind Saitama's jump today. Binance is the world's largest crypto exchange. Like the Coinbase effect, a listing on the platform frequently brings a spike in price.
What else do you need to know about SAITAMA?
The SAITAMA Crypto Is Hoping for a New Listing Comeback
Since its November peak, Saitama has generally been on the decline. In fact, the token is down nearly 90% from the all-time high it reached on Nov. 16. As such, Saitama fans are likely eagerly waiting to find out if the meme token will earn a listing on Binance.
As per Saitama's CoinMarketCap description, "Saitama's vision is to provide [Gen Z investors] with content that teaches how money works while they invest, thereby opening opportunities for wealth creation."
Saitama has already gained a social media following and demonstrated its popularity. Today its trading volume is up 186% ahead of the AMA.
Whether the Binance AMA translates to a real listing remains to be seen. Regardless, Saitama bulls will surely tune in to find out if their favorite meme- oken is, indeed, heading to the moon.
vai this site