Bitcoin and alt coins have plummeted as inflation and increasing interest rates affect the market.
For the first time since February last year, the global crypto market cap fell below the $1 trillion mark. After depreciating by over 12.15% in just the past 24-hours, the aggregate worth of all the tokens of the crypto industry stood at $968 billion on Monday. Bitcoin, along with Ethereum, paved the path by peeling off double-digit percentages from their respective values.
Bitcoin's dip to get deeper?
Quite recently, Bitcoin registered a green candle on weekly, breaking its 9-week long streak of bearishness. The said event managed to induce fresh optimism amongst market participants. The said sentiment was, however, quite short-lived.
Per TradingView's data, Bitcoin had quite an ugly close last week at $26k. Ugly because it lost one of its last strong supports at $29k. The new week's candle in the making was also in red on Monday, and Bitcoin was seen trading at $23.6k at press time.
Hereon, the next strong support for the king-coin straight away lies around the $19k mark. In and around the said level also lies a strong demand zone for Bitcoin from where it managed to instigate its rally last year. So, upon reaching the said threshold, Bitcoin might consolidate for a while and collect liquidity before prepping for its next move.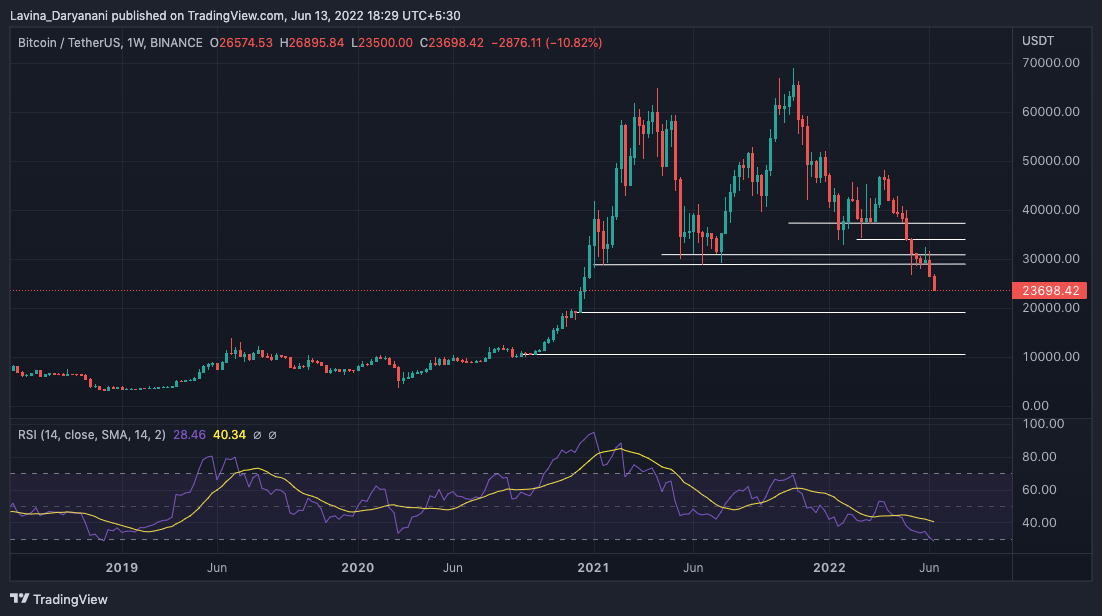 The losses might, however, not stop post the consolidation. Most indicators continue to portray bearish signs. The weekly RSI, for instance, was seen hovering in the oversold zone, around 28 at press time. Notably, this is the first time since December 2018 that the reading of this indicator has dipped below the 30 threshold.
If the said sentiment continues to persist, then we might witness Bitcoin free-fall to around $10k-$11k, where its next support lies. However, it should be noted that the said forecast, for now, is the worst-case scenario.
The Global In/Out of the Money indicator from ITB supported the said thesis. As can be seen below, over 4.62 million addresses have bought 1.55 million BTC at an average price of $10.7k in profit at the moment. Hence, as soon as Bitcoin's price falls around $10-$11k, it can be expected to gradually start recovering with the push received from the said support cluster.