Saitama has officially released their Saitarealty token on the Saitamask app. The new token will be taking real-world real estate to Web3.
The Saitama team has not been lackadaisical following the conclusion of the Crypto Expo In Dubai, with its price moving up and up since last week. Recent developments suggested that sentiment might have been driven by the launch of a new native token, Saita Realty.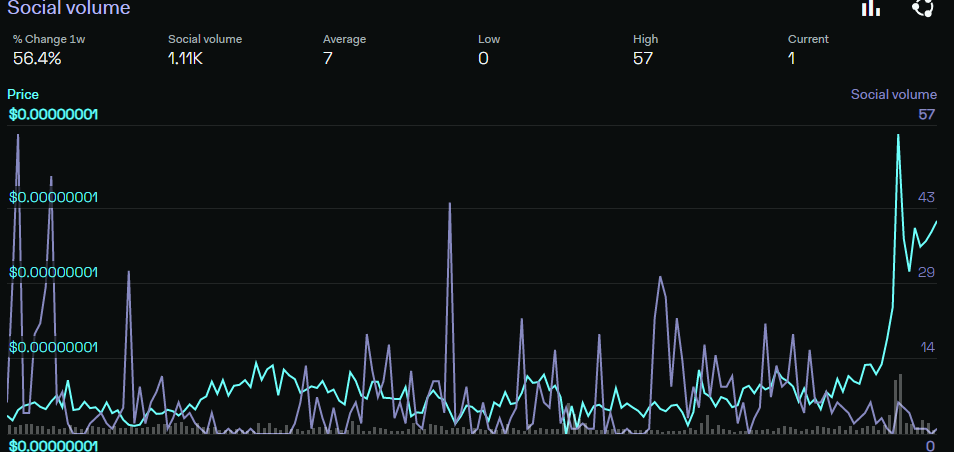 Although the Crypto Expo in Dubai concluded on 17 March, LunarCrush revealed that SAITAMA mentions on social media platforms had not diminished. On the contrary, weekly social volumes were by 56% and were currently hovering close to a 1-month high. 
Now, the Saitama team is quite active in the community and keeps fans engaged with the latest project updates. Hence, it isn't unusual to see a healthy social score. However, the social activity picked up significantly over the past three days, soon after the project announced the launch of the native token, Saita Realty.
It's official. The long anticipated launch is here. #Saitarealty will be launch this Friday March 25, 2022 at 5pm. Exclusively on #Saitamask. This is going to be one of the biggest launches of the year. #Saitama #SaitamaWolfPack #1000xgem #100xgem #binance #altcoin #Ethereum

— Saita Realty (@SaitaReaIty) March 22, 2022
After its initial launch in February was delayed due to a bug, Saitama's latest native token, s ready to be rolled out. As per the announcement, Saita Realty is planned to launch on 25 March and will be exclusively available on SaitaMask.
Built on the Ethereum network, Saita Realty is "A new token in the Saitama ecosystem that takes real world real estate to Web3". A self-burn mechanism, staking capabilities, and revenue distribution are some of the token's key features according to the website.
Saitama 4-hour Chart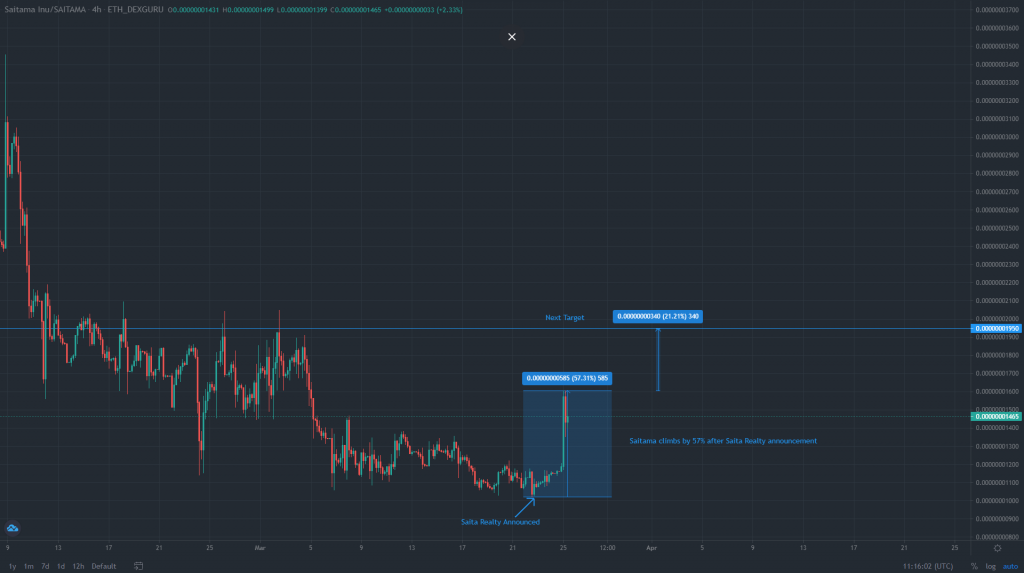 That charts show that Saitama's price was trading at a 56% premium since Saita Realty's launch was announced on 22 March. A large green candle even formed less than 24 hours ago, showing a 32% hike in a single session.
Additionally, the 24-hour trading volumes across exchanges came in at $16.8 Million, up by 300%. The aforementioned point, combined with high social volumes, primed SAITAMA for a rally extension.
A quick technical analysis showed that SAITAMA had established support at $0.00000001450 and the next target lay at $0.00000001950. Should buy volumes remain consistent, SAITAMA's near-term price can potentially extend by another 21% on the chart term and log a 1 month high.
However, caution must be maintained if the price slips below $0.00000001360 as a deeper correction would be threatened.
via this site