Coinbase CEO Brian Armstrong speaks out after rumors of bankruptcy after Q1 reports & 20% price drop in company stock.
Coinbase released its first-quarter results post the stock market's closing bell on Tuesday. Analysts' revenue estimates were missed out by a considerable margin.
The company made a revenue of $1.17 billion when compared to the $1.48 billion that Refinitiv was eying. As a result, its revenue fell by 27% from a year ago, while it registered a net loss of $430 million in Q1 '22.
The dip in the usage, when compared to Q4 2021, instigated the same. Retail monthly transaction users (MTUs) fell to 9.2 million, down from 11.4 million in Q4 2021, while the total trading volume dropped from $547 billion in Q4 to $309 billion.
Further, the EPS noted a loss of $1.98. As expected, Coinbase's share price plunged by more than 15% in after-hours trading, reposing on a drop of 12.6% during usual trading hours before the results were released. As a matter of fact, COIN has lost more than 80% when compared to its local peak created at $369 in November last year.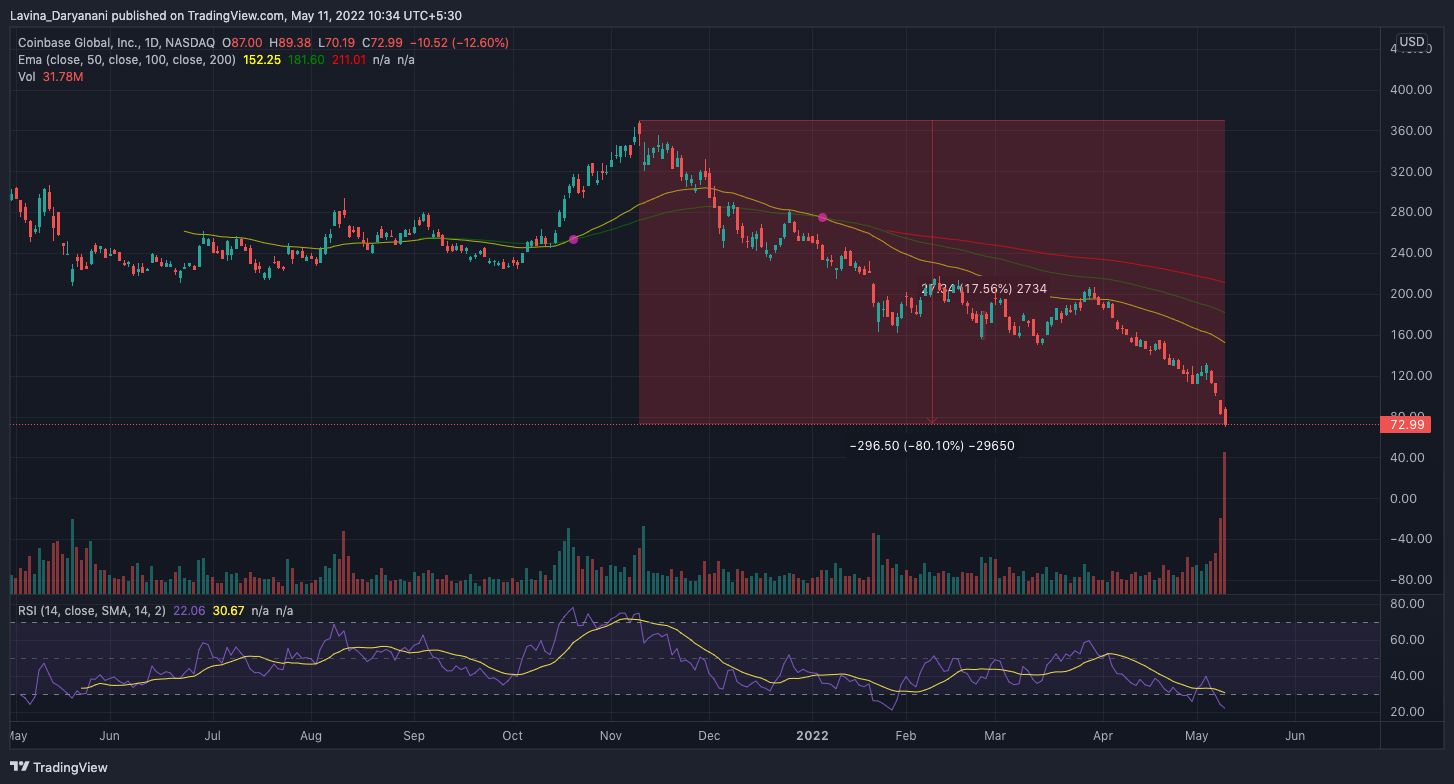 At press time, the company's market cap stood malnourished at $19.116 billion. In fact, the cumulative valuation of tokens like Cardano's ADA and Ripple's XRP was higher than that of Coinbase, despite the broader crypto market slump. Notably, the former's MCap stood at $20.9 billion, while the latter's stood at an elevated $24.89 billion during the early hours of Wednesday.
Coinbase ain't worried; It is playing the LT game
"We believe these market conditions are not permanent and we remain focused on the long-term."
It further said that it's looking beyond trading and focusing on the next generation of crypto opportunities.
"While we continue to invest and enhance our core investment platform, the application era of crypto is upon us, led by NFDs and decentralized finance, and we are increasingly focusing our efforts on these market opportunities."
Armstrong caters to the latest 'bankruptcy' FUD
In a separate SEC shelf-registration filing, Coinbase noted that it has no immediate plans to offer securities at this time. Its blogpost noted,
"…while we have no immediate plans to offer securities at this time, by filing the shelf registration statement now, we will be able to offer and sell securities in the future should we choose to do so."
However, in the same filing, it did explicitly state that in an event of bankruptcy, its customers would be treated as their "general unsecured creditors." This essentially means that Coinbase users' crypto would be used to bail out the company during any sort of adverse situation.
As the said statement started doing the rounds on social media, the company's CEO came to its defense and said that the company did not have any risk of bankruptcy and it was merely catering to the SEC's SAB 121 requirement.