How to Get Verified on OpenSea NFT Platform?
The NFT world is growing by leaps and bounds as thousands of users are jumping in on the digital artwork bandwagon. NFTs have made their way into the news cycles of top mainstream outlets reaching a wider audience lately. OpenSea is among the top NFT marketplace and receives millions of footfalls to its website every day.
The leading NFT marketplace now supports Solana NFTs on its platform and OpenSea is brimming with another batch of newer users. Also, the demand to get 'Verified' on OpenSea has spiked with multiple users applying for the blue badge of honor.
You will learn in this article that applying for 'Verification' on OpenSea is a simple process.
Why Is Being 'Verified' On OpenSea A Big Deal?
Getting 'Verified' on OpenSea is as similar to getting verified on social media such as Twitter, Facebook, Instagram, and more. The blue badge of honor automatically raises trust among users and considers anyone with a 'tick mark' as authentic. The blue tick mark signals that the individual seller or a project is genuine and is verified by OpenSea.
This brings a value of trust as being verified on OpenSea adds legitimacy to the individual seller or project. Users believe that the verified projects on OpenSea are less susceptible to scams and rug pulls. Therefore users transact with verified sellers on the platform easily and bring in business to the creators.
How To Get Verified on OpenSea?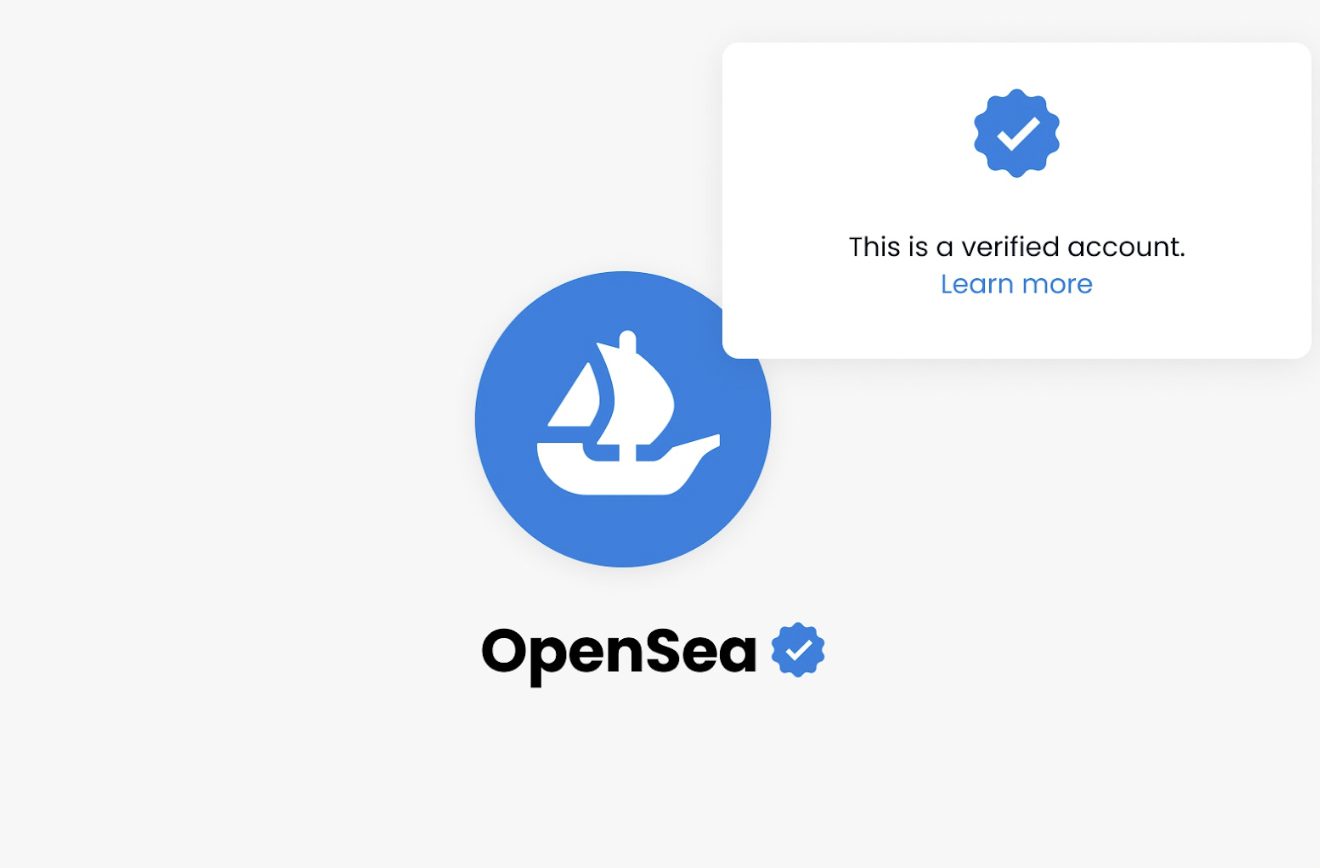 Getting 'Verified' on OpenSea is a big deal for many projects as it becomes a trustable source in the NFT community. Below is the step-by-step guide on how you can get Verified on OpenSea:
First and foremost, before applying for Verification on OpenSea, make sure your digital collection is connected with a Twitter account. The second step is to submit the certification that the artwork is original and belongs to the creator alone.
The point to be noted is that to apply for Verification on OpenSea, owners must have a minimum of 100 ETH in trading volume. If all the above criteria are met, the main window for Verification now begins.
To get your NFT collection verified on OpenSea, you must:
Firstly, click on the 'Edit' button on your collection/account.
Then select the 'Apply For A Collection Badge' option, and select 'Request Badge'.
A dedicated customer support team will then go through your profile and respond within 7 working days.
That's it! The process is simple and easy.
However, OpenSea has its internal list of checkmarks to Verify your collection. If your digital artwork meets the required criteria internally, then you will be ordained with the 'blue badge of honor' and receive your Verification tick mark on OpenSea.